Google Datally app available on Play store, lets you check and save mobile data.Google's new Datally app could help you save mobile data
From browsing the web, to streaming videos, to using social media, there are just too many ways to burn through your smartphone's data allowance. Unless you're lucky enough to have an unlimited data plan, there's a good chance you find yourself rationing your usage at the end of each month.
Google Launches Datally To Save Mobile Data In Android
Datally-
Mobile Data Saver

App from google launched for Android Smartphones to minimize data savings.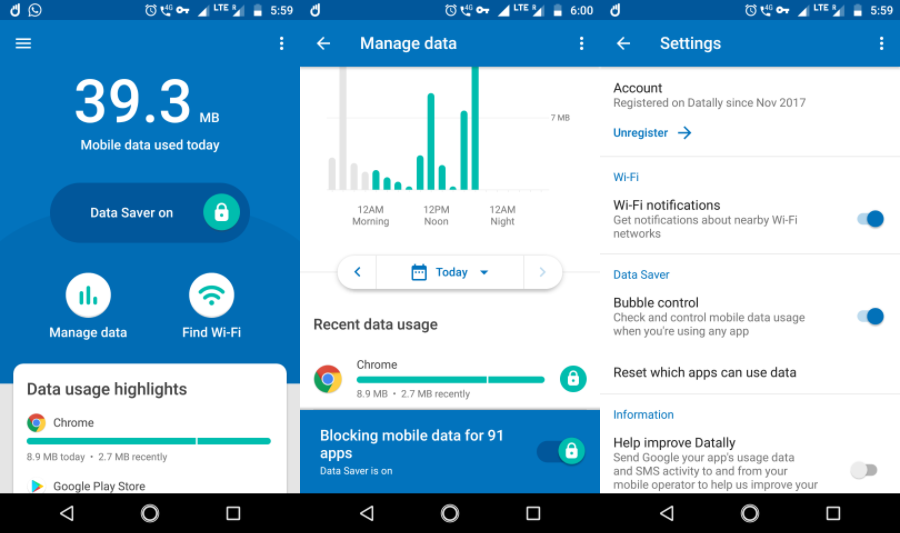 Google has launched a new app to help solve the most irritating problems for smartphone users - running out of data. Datally lets Android users keep track of usage over time, as well as minimizing the amount of data they waste.
Google tested this Datally- "Data Saving App" in the Philippines. The company says that the app has an better ability to understand User's Data Usage patterns and suggest ways to save mobile data. People were able to cut down their data usage by up to 30%.
developers were inspired by seeing the lengths commuters went to in order to save their precious data.
Datally not only shows users where all their data is going, it offers them the ability to control each app's internet access on an individual basis.
Datally also track your usage on an hourly, daily, weekly or monthly basis and give you personalized recommendations on how you can save more in briefly.
Blocking all background apps from being downloading and uploading is one radical solution available to conserve megabytes, but also means you won't get any push notifications or messages, other than texts.
Datally can also suggest nearby WiFi networks based on a user's location. Through Google maps, the app also provides directions to the place where WiFi network is present. If you are aware, Facebook also introduced a similar feature a while ago.

Download & Install Datally from Google Play using this link.